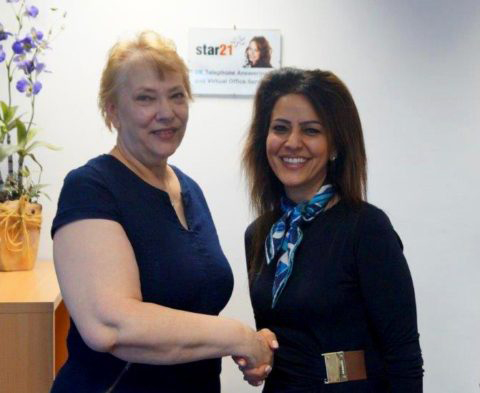 On 3 October, Oberoi Business Hub in Derby, owned by entrepreneur and TV personality Kavita Oberoi, officially took over Star21, the friendliest business telephone answering and virtual office service in Milton Keynes, as its locally well-respected founder, Ethel Morris, retires.
Some of Star21's clients have been with Ethel since she went into business in 1998.
"People who do a good job stay in business for a long time. Ethel's business is all about caring for clients and delivering exactly what they need - they're all different," said Kavita.
"You get to know people really well. Some clients have been with us for so many years that they've started, grown and sold their first business, but have stayed with us for their second venture," added Ethel.
"The working ethos of both companies benchmarks service quality at an extremely high level – the kind of service level you'd normally only get when you're dealing directly with a good business owner.
"We have to work hard, but it's a pleasure to maintain these standards when you see client organisations grow – and that's our aim at Oberoi Business Hub.
"Maintaining the best standards humanly possible is one thing, but we go the extra mile to make introductions and create a client community so they can support each other in business growth.
"This is a cornerstone of being an on-site or remote client of Oberoi Business Hub," explained Kavita.
Kavita's and Ethel's story started three years ago when, former colleague, Susie Seui, who owned the first call answering business Kavita acquired acted as 'secret shopper', to test the services of the Oberoi Business Hub.
Susie investigated the call answering services at the Oberoi Business Hub on behalf her clients as she wanted to retire, but wanted a new owner who would run the business to the high service standards that she did. Secret shopping was the best way of finding suitable potential buyers.
Susie was so impressed with Oberoi Business Hub she sold her business to Kavita in 2013 and handed over the names of three other telephone answering companies with owners who were planning for retirement.
Star21 is the third and largest of the companies that Oberoi Business Hub has acquired, with 164 service lines and 124 clients, of whom 38 have more than one company.
Kavita is meeting or speaking to every single client to understand their specific needs and build the trusted relationships they've enjoyed with Ethel.
"It'll take many years before I see a return on investment from the merger, but I feel that the money is secondary. I can testify that, if you keep clients happy, the reward comes later.
"We treat every business as if it were our own. If we see an issue that needs addressing, it's flagged to the owner. We're often able to resolve issues or bridge gaps ourselves, with client agreement.
"Word-of-mouth recommendations are our route to further growth – which is why we only engage with those of a similar ethos," commented Kavita.
Ethel will continue to support Oberoi Business Hub until clients and staff are well-aligned, so her clients won't notice a difference in service, and the Milton Keynes virtual office address will remain unchanged.
"This goes to show that when you answer a business phone call, you never know who's on the other end, so we aim to treat everyone like royalty.
"Letting go of Star21 will be a wrench, as it's been such a huge part of my life for so long, but I know it's in the best possible hands," concluded Ethel.
Further press coverage : www.thebusinessdesk.com | www.yourlocalflyer.co.uk | www.businessmk.co.uk