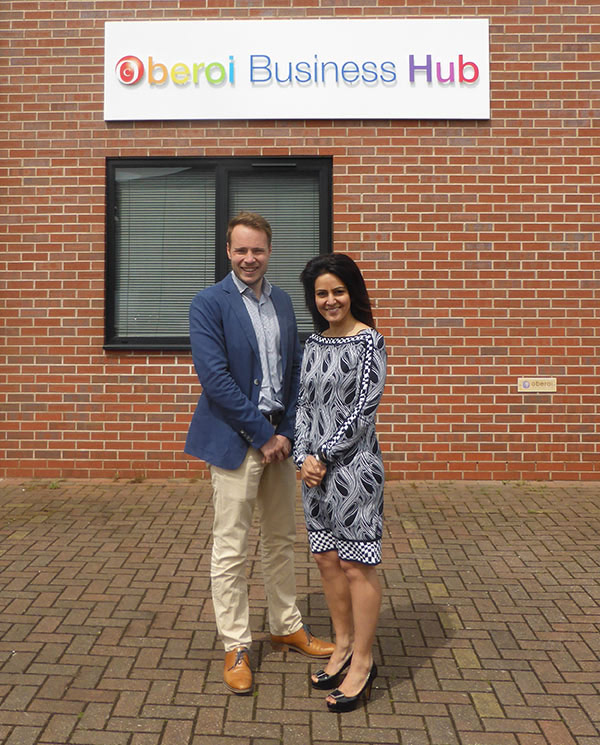 Leading British entrepreneur Kavita Oberoi OBE has invested over 2 million pounds in the recent acquisitions of high value offices on Pride Park as she expands both her Oberoi Consulting enterprise and the highly successful Oberoi Business Hub.
Acting on behalf of the landlords, Derby city's largest commercial property consultancy BB&J Commercial secured the sale of 17a and 20 St. Christopher's Way to Ms. Oberoi, taking her total assets to five at this prestigious address and further establishing her commitment to the city.
The expansion comes following a period of successful growth for Ms. Oberoi's Pride Park businesses. After the launch of the Oberoi Business Hub just over three years ago, the venture has continued to go from strength to strength, providing all aspects of support to fledgling businesses and start-ups.
Services provided by The Hub include both virtual and serviced offices, virtual PA, conference and meeting rooms, packing and distribution, call answering and back office support which can be tailored for individual needs.
As the only provider of its kind on Pride Park, The Oberoi Business Hub now boasts more than 200 businesses, from local start-ups to national corporations, all tapping into the unique and varied services offered to members. A further call answering acquisition is planned in the next 6 months.
Ms Oberoi said of the expansion: "The work space environment has completely changed in post-recession Britain.
"We've seen a huge number of companies review and overhaul the traditional long lease office concept in order to improve efficiencies and maximise flexibility as well as seeking to avoid the risks and costs associated with long-term leases and issues affecting owned offices.
"There's a tendency to think that the Hub is exclusively for start-ups and small businesses but that's not the case. We've seen an influx over the past year of large nationals who see the financial benefits of using our serviced offices and back office support .
"The call answering alone has saved companies an average of £1,000 a month through outsourcing their calls rather than employing in-house, it's a no brainer, no matter the size.
"As a result of the surge in membership we were seeking new premises alongside expansion plans for Oberoi Consulting which meant that the purchase of the new offices at Pride Park was ideal, staying close to our existing businesses and with possibility for further expansion to nearby properties in time.
Ms. Oberoi has now appointed BB&J Commercial as retained agents, working together on her property portfolio and providing ongoing support and advice concerning existing assets: "This is the first time I have appointed property consultants to work with me on a longer term basis and I'm excited about the opportunities it will present", commented Ms. Oberoi, "BB&J really impressed me throughout the process, they have an extensive database and a unique and in-depth knowledge of Derby's commercial space which is exactly what I'm looking for."
Chris Wright, of BB&J Commercial added: "Ms. Oberoi has made vital contributions to Derby over the past few years through her work on Pride Park together with leading community initiatives and we're delighted to be working together to help fuel future growth and expansion within the city and beyond.
"We're confident that the new office space at St. Christopher's Way will provide the platform needed to take The Hub to the next level."
Further press coverage : www.insidermedia.com