Philanthropy
One of the greatest rewards of Kavita's success in business is being able to use the revenues generated to support and engage in charitable causes.
Kavita believes in the power of giving. Kavita's own experience is that the blessings she's had in her life are a result of giving, whether it is money, skills or connections, as the more that is given away, the more that comes back.
The Global Girl's Fund

In 2010 Kavita took on the role of Chair of the Global Girls' Fund board.
Set up by the World Association of Girl Guides and Girl Scouts, the Global Girls' Fund supports work that empowers young women and teaches the life skills they need to succeed and prosper.
Kavita was given the task of leading the fund raising of £10 million in five years, under her leadership her team achieved this in just three.
The Breakfast Club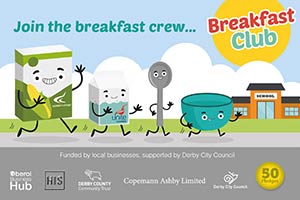 The Breakfast Club is a scheme to offer funded breakfast's through local business  to school children across Derby.
The scheme was instigated by Kavita and is  a collaborative project between Derby City Council,  Aaron Thalman, Mike and Dana Copestake, Derby County Football Community Trust and HIS Church.
Originally set up as the 'Breakfast of Champions' pilot, also known as the 'Free Schools' Breakfast Club Scheme', the scheme was rolled out at four selected schools in Derby in 2016. funded by Kavita and Mike; in an attempt to improve children's behaviour, attendance and overall educational attainment, recognising the importance of breakfast in order to start the day effectively.
The overall findings showed that the clubs were well received and attended by a growing number of pupils.
Findings also showed that attending breakfast clubs generally boosted morale before the school day started.
In 2017  the scheme  was launched to all schools in the city, with funds being accessed through local businesses.
"It's fantastic to see how well received the breakfast initiative has been across the schools involved so far.

"Ensuring a child has breakfast in the morning is a simple task which could greatly improve their ability to learn.

"It's clear to see the impact it's having with many more pupils choosing to attend breakfast clubs.

"We hope to expand this further and get both schools and businesses involved so everyone can do their part to help out.

"A bowl of cereal for one child, every day of the school year, costs just £15.60."

Kavita Oberoi OBE