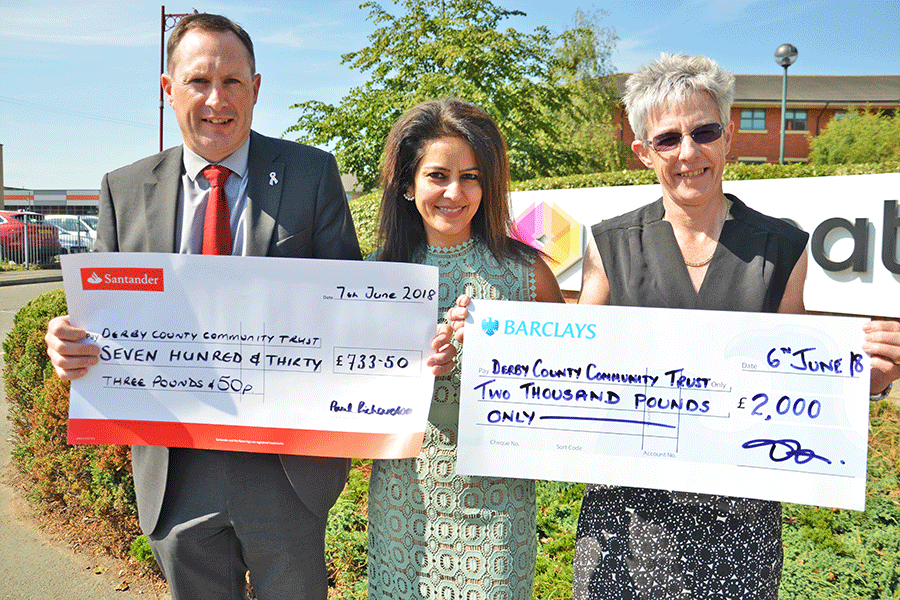 The Breakfast Club, a scheme instigated by leading city Entrepreneur Kavita Oberoi OBE to provide funded free breakfasts to school pupils in Derby, received a great boost this week with a donation of £2000 from local company, Resonate.
Resonate is a technology company, based on Pride Park, specialising in rail and connected transport solutions.
They are a leading supplier of intelligent traffic management systems for the Digital Railway programme being driven by Network Rail and the Department for Transport, deploying digital technologies to modernise UK railways.
Sheena Hendrie, Corporate Services Director said:
"I heard about the Breakfast Club because Kavita spoke at a Marketing Derby event last year, and through my membership of the Derby College Rail Employment and Skills Academy Board.
"The College is also raising sponsorship for the Club.
"We've got involved because as a Derby employer we are concerned that in Government's Social Mobility Index ranks Derby 303rd out of 324 Districts.
"With the employment opportunities in the city, this seems to be a really disappointing position.
"This seems one way to try to break the cycle of limited opportunities for some of Derby's citizens.
"We are fully committed to supporting initiatives within the local community that strive to improve the social wellbeing and education of our children, and the Breakfast Club is doing just that for youngsters in the Derby area"
The Breakfast Club is continuing to grow.
As of the start of April the number of pupils typically receiving a daily free breakfast in the target schools had increased significantly to 353.
In addition to this the Derby Families Information Service reports that an additional 380 pupils typically receive a daily free breakfast in other City schools, whilst the new Chartwell's free breakfast porridge clubs in two City schools now enable over 500 pupils to receive a daily free breakfast.
So, overall, 1233 pupils now typically receive a free breakfast each day.
Further great news came as a quiz night held at the Oberoi Business Hub in conjunction with Santander raised nearly £750, with the hope that this is going to be matched further by Santander so the total will potentially be £1500.
Kavita Oberoi, OBE said:
"It's fantastic that Resonate and Santander have shown their generosity in this way enabling us to support the children in this city.
"We hope more businesses and individuals help us to ensure that no child in Derby has to go to school hungry and that more schools will consider starting up a pre-school breakfast club.
"These donations open up the possibility of another 230 or so children gaining access to breakfast from the next academic year in September 2018."